Description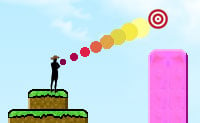 This is a challenging game in which you have to hit all pink rings with a limited number of boomerangs. The further you aim with the mouse, the harder the boomerangs fly and the less they loop back. If you want to practice, check the 'unlimited boomerangs' box in the menu.
Use your mouse to aim and shoot.
Archery 4

Flashing Lightning

Archery 2

Vase Breaker

Winter Bow Master

Shooting Balloons

Archery

Bow and Arrow

Archery 5

Catapult Blaster

Monkey and the Balloon 4

Shooting Parcels

Heartbreaker

Archery 3

Blue Archer 2

Bat Hunter

Shoot the Robot

Bow Show

Cat with Bow 2

Circus Balls

Jeff the archery master

Rocket Launch

Lightwatch

Gem Rush

No Halo No Entry

Bob's Balloons!