Papa Louie 2: When Burgers Attack!
Description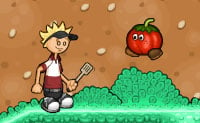 The Papa Louie game series has been extended: this is not a restaurant game but a platformer where you fight against hostile hamburgers that are gunning for Papa Louie's Burgeria! Hit the hamburgers, tomatoes and other ingredients to a pulp and grab every bonus you can get! You can also jump on top of the enemies, so that they'll lose consciousness for a while. Will you manage to repel this hamburger attack?
Up arrow = jump. Hold it to jump higher. Space bar = attack. Down arrow = slide down to eliminate several enemies at once.
Just Button

Doors 2: Dave's new job

Raze 2

Gathering Lumber

Raze

The Choice

Frog Dares

Jim Loves Mary

Slay the dragon

Puzzle and Run

The illusionist's dream

Checkpoint

Treasure hunt

Robot Wants Kitty

Firebug

Tricky Gears

Wrath of Anubis

David

Beer Monster

Pick and Dig 3

In search of Juliet

Eva Rescue Tom

Epic Charlie

Adventure Story

Doodle

World